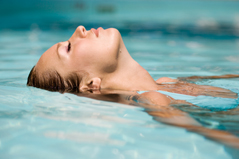 The youngest of members will enjoy the kiddie pool while the older kids and parents can relax pool side. GlenOaks offers kids the chance to practice with the swim team and participate in various swim meets. But that's just the beginning of the fun.

Members will have access to the snack bar located at the pool. Also, food runners can bring you anything from the menu in the Grille Room inside the Clubhouse.

For more information about the pool or to schedule a visit to take a look for yourself, please don't hesitate to call Jamie Miller, today: 502.339.9183 ext. 101.