Golf Instruction at GlenOaks

Our professional staff at GlenOaks is here to help you achieve success on the golf course. We will custom design a lesson or series of lessons based upon your personal goals. You will improve your golf game while learning in a relaxed and enjoyable environment. We offer indoor lessons as well with our in house OptiShot.

Please feel free to call the Pro Shop at 502-339-0215 ext. 1, to discuss your needs with any of our professionals. We look forward to helping you enjoy this wonderful game!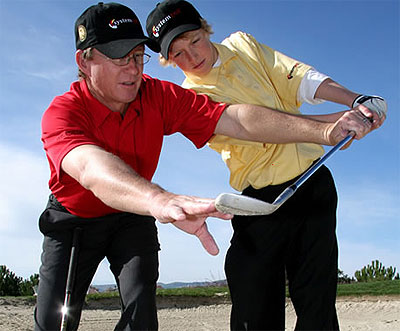 PGA Head Golf Professional – Doug Hargrove
Golf Operations Manager - Daniel Wilhem

Why Take Golf Lessons?
When you play better golf, you enjoy the game more.

A new golf club can be 15 times more expensive than one 30-minute lesson.

Even the best players in the world continually use trained PGA Professionals to correct their swing flaws.

Over 20 years of teaching experience.
We will help you achieve
More distance and accuracy off the tee.

More consistent contact and distance control with your irons.

Better short game results with increased feel and technique

New shots to use from the fairway, around the greens and rescue shots from trouble.
Who do we teach?
Small and Large Group Clinics
Our Teaching Philosophy
Teach each individual differently, because each person has a different physique and unique capabilities.

Eliminate unnecessary moving parts of the golf swing. this process allows the swing to be as simple as possible while instilling confidence in the player.

Teach the player to use big muscles to create power with minimal effort.

GlenOaks Country Club | 10601 Worthington Lane | Prospect, KY 40059 | T: 502.339.0215
Designed and Hosted by Cybergolf