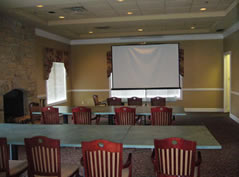 Want to have a meeting in the morning and play 18 holes in the afternoon?

GlenOaks Country Club is the place for you! GlenOaks has three private meeting rooms, all of which include wireless internet. We can also cater your business meeting for breakfast, lunch and/or dinner.

Many of our members have already taken advantage of using the country club for all their business meeting needs. We can take care of planning the menu, preparing the food, and setting up the tables while you increase the bottom line.

The Oakleaf Room – This beautiful room overlooks the ninth green. It can accommodate 5 to 15 people.

The Oak Room – This room is ready to accommodate anywhere between 5 and 25 people. Please see the picture above.

The Acorn Room – This spacious room can hold up to 100 people, making it a great place to have the whole office out for a meeting.